Endorsed Products and Sites
Dear German Shepherd Puppy Buyer,


I highly recommend NuVet Plus. I've seen some amazing things in my day, but this takes the prize. It is the best nutritional

supplement I've ever seen. We are recommending it to everyone. More than a million dogs and cats are using NuVet to protect against most ailments (from back yard pesticides, pet food allergies and hormones, toxic formaldehyde in furniture and carpeting, ailments transmitted from dog parks and the vet's office, etc), while maintaining a beautiful skin and coat. This is not just a vitamin. It's an immune system builder with a precise balance of vitamins, minerals, omega fatty acids, amino acids and high-potency antioxidants. That's why it works so well through all three stages of a dog's life.

For younger dogs (under 2 years old), it strengthens their immune system, while building and strengthening the cardiovascular, skeletal and nerve systems.

For dogs in their prime (age 2-8), it improves the luster of their skin and coat while protecting against allergies, skin and coat problems, staining from tears, digestive problems, etc.

For older dogs (over 8 years old), it helps reduce and eliminate arthritis, tumors, premature aging, cataracts, heart conditions, diabetes and many types of cancer, while extending the life and improving the vitality of many dogs.

We highly recommend NuVet Plus to keep your pet on the path to perfect health! It's not available in stores, and is only available to the general public with an order code from an authorized pet professional. For your convenience, you may order directly from the manufacturer (at up to 50% off what most veterinarians charge) by calling 800-474-7044 and using Order Code: 37318,or ordering online at www.nuvet.com/37318 . By using autoship you can save an additional 15%.



To the long life and health of your puppy!


Marilee Wilcox

Stein Quelle



Your Stein Quelle German Shepherd puppy is bred with a medium hard temperament. Early socialization is essential for your German Shepherd puppy's good mental health. Take your German Shepherd puppy every where with you as often as possible. Expose your German Shepherd puppy to many different people, places, and other dogs. The more varied pleasurable experiences your German Shepherd puppy has, the more the puppy will develop a temperament that will be calm and steady in all situations. Reprimand your pup by shaking it by the scruff of the puppy's neck only (Like you mean it), while calmly telling the pup "PHUI" (the German word for "shame"). Before giving the correction, make sure that you have "eye" contact with the puppy and the puppy is paying attention to you.
Let the puppy be a puppy, don't pressure the German Shepherd puppy to learn too much too soon. Enroll your puppy in a 'Puppy Kindergarten" class. Upon completion, enter the pup in an 8-12 week obedience course. That should be enough for most house Schutzhund dogs.
There is no limit to what your German Shepherd puppy can do or learn. Remember German shepherds have the intelligence equivalent to a 15 year old human. Your pup can learn to track, defend, and protect, if you so desire. The choice is yours, the puppy will be whatever you guide him/her to be.
When properly raised, your pup will only do what you allow the puppy to do. You are in control, not the dog. lf the German Shepherd puppy feels that you have this attitude, he/she will respect and obey you. You don't have to be mean or stern, just firm and fair. Allow plenty of time for the pup to play. When it is time for work, however, be sure to get the pup's full attention, and don't allow the German Shepherd puppy to become unruly. Keep your lessons short and pleasant, constantly giving lots of praise and encouragement. If you are interested in training, Stein Quelle may be able to assist you in locating a suitable trainer in your area.
Do Not encourage aggression: If you want a protection Schutzhund dog, engage the services of a professional.
Most Stein Quelle pups are capable of competing in AKC Shows, Schutzhund trials, or to be good companions, or regular house dogs. Spending time with your German Shepherd puppy is the most important factor. He or she will be constantly learning from you instead of the German Shepherd puppy learning on its own. You can instill in your pup the values that you choose. He will become your best friend and pal for as long as you are together. We will be more than happy to discuss any aspect of training or behavior, and answer any questions that you may have at any time. And if its an emergency, call any time of the day or night.
Remember, you picked this German Shepherd puppy, the puppy did not pick you! You are responsible for your puppy's welfare and behavior. A well behaved Schutzhund dog is a joy to live with not a burden to be tolerated. A well raised Shepherd is kind, protective, but never a danger. The breeding is among the world's finest. The rest is up to YOU!
The Best of Luck and enjoy your exceptionally bred German Shepherd Puppy.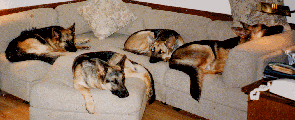 "It's a dog's life."
Take your German Shepherd puppy for a walk to the same area to relieve itself every time. Encourage your puppy to go for a walk, or do its duty, when it does, act very happy and tell the puppy it is very good! Use lots of praise like "Good Puppy". Take the pup out after it wakes up from a nap, after you play with it, after it eats. It is your job to watch the German Shepherd puppy like an infant until it is trained, always wonder what the puppy is doing and watch for pup to circle by the doors as a signal it has to go out. Pick up food and water at approx 5-6 p.m and take puppy out several times before bedtime.
This regimen had been used by Stein Quelle with outstanding results. Your pup has some of Germany's finest Blood lines and also over 32 years of research and development in genetics and feeding. We also require periodic correspondence with growth information. We follow up on all aspects of Stein Queue pups to enhance and improve our breeding program.
We Thank You for picking a Stein Quelle pup. You can be sure that we are really concerned about puppy's welfare, well being, and your satisfaction.
Phone: (585) 567-2643 | E-Mail: SteinQuell@aol.com