Come to SteinQuelle for the Finest Dogs in the World!

Shown below are pictures of just some of the dogs we have bought, sold and loved over the years.
If you are interested in finding a high-quality addition to your family, please see our
sales page
for available adult Schutzhund dogs!
| | | |
| --- | --- | --- |
| Uno vom Stein Quelle | Bitta vom Stein Quelle | Fraya vom Stein Quelle |
| | | |
| --- | --- | --- |
| Amanda vom Fichtenschlag | Marko von der Schwedenschanzen | Norma vom Poppernberg |
Happy Dogs make Happy Customers!
Randie with Grandkids @ Pond

@ Stein Quelle Our Dogs are Part of the Family!




Randie w/ Her Kids and Our Grandkids

Make a Stein Quelle Pup Part of Your Family Today!



Kliff vom Herzbach new Member of the Singh Family from Henrietta, NY


Like the Singh Family you too can
join the Steinquelle Family today!

We nearly always have pups to place
and we will work to help you find
the perfect addition to your family.

Call Today!



| | |
| --- | --- |
| We have placed and donated many Schutzhund dogs with police, rescue and fire around the country and world. Here is Oko (Oko vom SchH 3, KKL 1a life, V rated) with her firemen friends! For more information contact us. To read about more happy customers scroll the page and enjoy! | Oko vom Stein Quelle |
Mr. Tom Wilcox
Stein Quelle
24 Stone Spring Rd.
Fillmore, NY 14735

June 14, 1999

Dear Tom,

Jill and I want to thank you for our beautiful Schutzhund dog "Larry". We know that it was on your recommendation that our friend Steve Goldberg found and gifted us with "Larry".

"Larry" is a very intelligent, beautiful and spirited dog, who we have come to love.

Tom, we thank you for your assistance in finding the newest member of our family.

Sincerely,

Robert Wagner

RW/kc




Robert wagner and Jill St. John
Hello Mr. and Mrs. Wilcox,


Just wanted to send a quick note and let you know that Fill and I are getting along just great. I have to watch his chewing of things but beyond that he's absolutely wonderful and has become a part of the family. Fill and I went for our first obedience class this past Monday of which he did a great job and all were impressed with his temperament.

Besides getting better with his basic obedience he's learned to bring his leash to me when he wants to go out. In addition he's getting very close to dispensing his own ice cubes. He knows exactly which lever to push but hasn't been able to depress the lever far enough to date. He enjoys carrying tools for me when I'm working on a project and loves to go places with me. To date he's simply been a wonderful addition to the family and both my children and I have grown to love him.

Thanks again for you help and I'll be contacting you in the future with updates.



Regards,

Carl




Fill vom Ritterberg and Carl
Dear Tom,


I first of want to start by saying,THANK YOU for the wonderful gift of our new boy KANE!


We have given him the nickname of Kane,per request of our boys. They thought of it themselves. Kane is very smart and is growing like a weed! HE will begin some basic obedience training in Aug. HE already has learned...come,sit,shake,stay. at only 12 weeks.


HE is such a joy to our family and I cannot thank you enough for your hard work and ethics when it comes to breeding.I will keep in touch and keep the pictures coming.


Our family thanks you again from the bottom of our HEARTS!


Sincerely,
THE HUMPHREY'S
Tim,Brenda,Brandon,Cody




Kane on Leash
Hi Tom and the rest of the steinquelle family.


Our first 24 hours with Felix ( we have renamed him Ulrik) have been fairly uneventful. He didn't really eat well last night, I chalked it up to stress and i probably didn't make like momma at home makes it. Today was better, he ate both meals and we took him to a couple of stores around here that allow dogs.


My husband and sons were waiting for us in the driveway yesterday and they couldn't believe the treasure I had brought home. He got along with everyone well, no problems what so ever. The picture is of my son Henry and Ulrik.


My whole experience of getting Ulrik from you was wonderful. I enjoyed meeting all of you, two legged and four legged. There are not words that can express my thanks. We call him the dream dog, I have yet to find his vice. Thank you ever so much.


Your friend, Lisa




Henry and "Ulrik"
Hi. Tom & Marilee;


Just wanted to update you on Samy's progress. He is growing very fast and is turning into a handsome Schutzhund dog. Everyone who meets him is so impressed with his looks, behavior and temperament. All the family and kids just love him. You guys are the Best when it comes to knowing German Shepherd Dogs. By the way Samy came in first in his companion obedience training class. We are planning to continue training classes in both obedience and agility. Attached are two pictures we thought you might like. We hope You have a Merry Christmas and a Happy New Year.



Sincerely,

Carol & Phil Schaeffer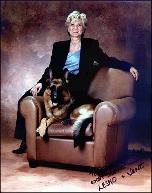 Janet & Lesko
12 May, 1999

Tom Wilcox
Stein Quelle
7336 Stone Spring Road
Fillmore, New York 14735
Dear Tom,

I just don't know where to begin to thank you for bringing Lesko to me. He is such a gift.

Tom, the support you gave me during the weeks preceding Lesko's airnival have proved to be invaluable in creating such an easy transition for both of us. Right forn the beginning. I knew that if you were taking the time to discuss my lifestyle, you have a deep concern where these beautiful Schutzhund dogs are placed.

I found that the printed materials and videos you sent were extremely helpful both both from the standpoint of learning about the superior quality of the dogs in general to being able the view my dog exhibiting his superior level of training. And, your "German lauguage lessons" of the commands created an environment that allowed Lesko and I an immediate means of communication. He especially loves to be told he's a 'brav hund'. A He actually looks like he smiles!

Thank you especially for all your patience during my many phone calls with questions ranging from "How soon will he be here?" to "What does he eat?" I know you hear these same questions all the time, but your patience and clear instruction made me feel like having Lesko live with me is as important and exciting to you as it is to me.

Lesko has such a wonderful personality. He's both protective and playful in all the right situations. And so affectionate - sometimes when we make eye contact, I feel as if we see into each other's being. Lesko has such elegance about him; some magical quality exists behind those eyes; it speaks of intelligence and even more so of soul. Lesko has added indescribable quality to my life.

Thank you again for the gift of Lesko.

Sincerely,

Janet M Hanner
Thanks Tom, Merilee and SteinQuell,


After purchasing 4 beautiful German Sheppard's from you before I didn't think you could match the prior Schutzhund dogs we got from you but because of your high standards and dedication you did. Our new German Shepherd puppy is simply the best dog ever. She has more than surpassed everything you promised us.

Your team in Germany has a deep love for their Schutzhund dogs and it shows with each new dog we purchase. We are up too 3 now and who knows, we may go for 4.

Thank you for caring and for all that you do to make sure that we have the most beautiful best behaved dogs in California.

Steven Goldberg
President Pet Parents Network.
Hi Tom & Marilee,

Steve and I would like to thank you for such a perfect puppy. He is so beautiful. And he has a wonderful temperament. He had his first bath and was very good the girls both watched. Good thing they had baths in the morning or they would have been jealous. They are bonding well. They are all sleeping in their crates 3 crates all in a circle so they can see each other. I will be on the couch next to them. We have an 8:30am vet appointment tomorrow. We will send pictures. Please tell Marco it was love at first sight. Thank him for sending us such a beautiful but more important lovable pup. He will be well taken care of. My friend who has the dobermans came to see him. She would not go home she loves him so much. I can just imagine what people will say because he is so beautiful and has such a great temperment.

Can't thank you enough Donna & Steve



PERRY VETERINARY CLINIC
3180 ROUTE 246. PERRY, NY 14530
(716) 237-5550 Telephone
(716) 237-5544 FAX
Leslie E. DeGroff, DVM
Stephen Stoddard, DVM
Peter Hecht,DVM
Patrick Lynch, DVM
Guy Cutler, DVM

Paul Schneible, DVM
G.A. Wiseley, OVM
David Hale, DVM
Gale Harvey, DVM
Karl Minister, DVM
March 25, 1996

To Whom it may concern

The Perry Veterinary Clinic has worked with Tom Wilcox over the past 6 years. I have found Torn to be a responsible and reputable breeder of German Shepherd dogs. I personally have been to his facility to examine puppies, administer rabies vaccinations and help out with various maladies. I am comfortable referring people to Tom if they are interested in acquiring a German Shepherd.

Sincerely

Steve Stoddard, DVM
LIVERPOOL VETERINARY HOSPITAL
7906 Oswego Road
Liverpool, New York 13090
315 - 652 - 6216
Tom Wilcox
Stein Quelle Kennels
24 Stone Spring Road
Fillmore, New York 14735

Dear Mr. Wilcox:

First, let me apologize for the tardiness of this letter. I fully intended to write to you a month ago.

On May 24 1996 1 examined one of your pups purchased by Susan and Bob Hiemenz of Liverpool, New York. Amber was 7 weeks and I day old at this time and I found her to be in excellent health. I was also captivated by her charming personality. She had endured an extended car ride and came to see me even before discovering her new home. She appeared to be a very well adjusted pup.

I had the pleasure to examine Amber again on June 21 1996 and administer her 3rd puppy vaccine. Once again, she took it all in stride She was well mannered and her "mom" could not be happier with her. By the way, both her ears are standing!

I would like to commend you on the breeding of this puppy. If Amber is an example of the type of shepherds you are breeding, I would not hesitate to recommend your animals to interested prospective owners.

Sincerely,

Holly R. Reid DVM
Phone: (585) 567-2643 | E-Mail: SteinQuell@aol.com